reading_certeau
2005. audio visual room installation. Kunstverein Essenheim. With Ursula Damm.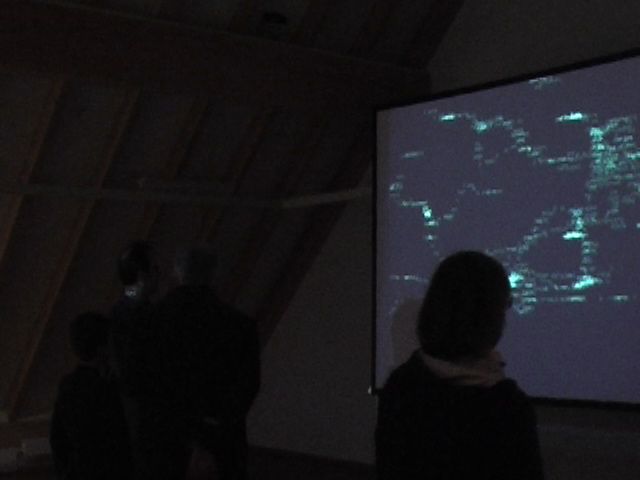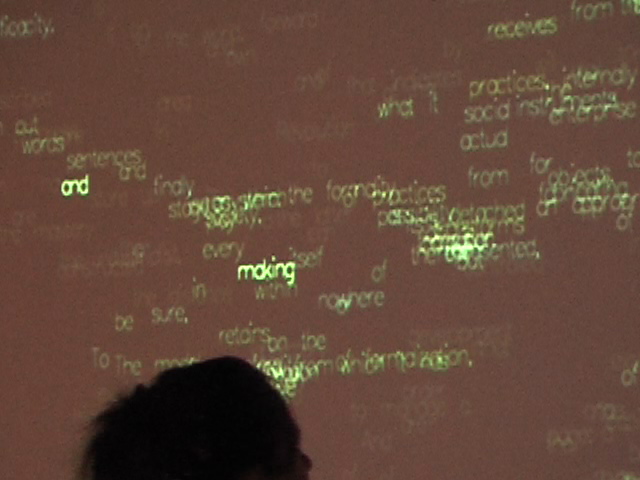 reading_certeau is an interactive installation by Ursula Damm and myself, first exhibited at Kunstverein Essenheim in 2005.
It deals with the self-reflexive construction of space, spawned by the axis of the aural, the visual and the word by human individuals interacting with each other and reacting on their particular environment.
The visitors are able to move in a space defined by the words of a text from the french philosopher Michel Certeau about the relation of the the written and spoken word to its context, the page it is written on, the mind it is interpreted with. The visitors movement irrevocable changes the shape of the text and though the surrounding space as the individual irrevocable changes through the act or the non-act. As the semantic of the text changes, the form, the meaning of the space itself adapts itself. You can get an impression from a short video(4.4MB).
The "meaning" of this piece of art hasn't existed for me a moment before. It enters the spatial world this very moment in my effort as co-creator to describe the work in order to be published in the web space to be read and judged by you. In consequence it is quite arbitrarily, but by the act of writing my mind extends its boundaries and my thoughts are flowing freely, perhaps this is the reason why I did the work. Hmmh. Quite ego-centrical... but I am losing the focus, I will keep the rest for myself.